This lab includes various machines like Lathes, Shapers, Milling Machines and Planing Machines etc.Machine tools are power driven machines used by the mechanical engineers for imparting the desired size and shape to a work piece with the desired accuracy by removing the excess metal in the form of chips. In the machine tool lab, the student performs different operations in the lathe such as taper turning, thread cutting, grooving etc., and also cuts different types of gears in the milling machine provided with indexing mechanism.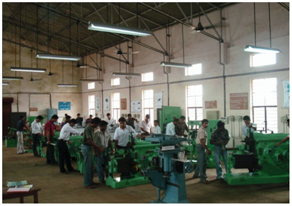 This laboratory gives the students practical knowledge on the fundamental principles of Fluid Mechanics and can verify the principles of fluid flow. They conduct study of various pipe fittings, valves, gauges, water meter, current meter and on stability of floating bodies, pipe flow and applications of Bernoulli's Theorem etc. The different test rigs available in the lab includes, − Pipe friction apparatus − Orifice Meter apparatus − Rectangular & V-notch apparatus − Ventury meter apparatus − Reynolds apparatus − Rotameter apparatus − Orifice apparatus − Metacentric height apparatus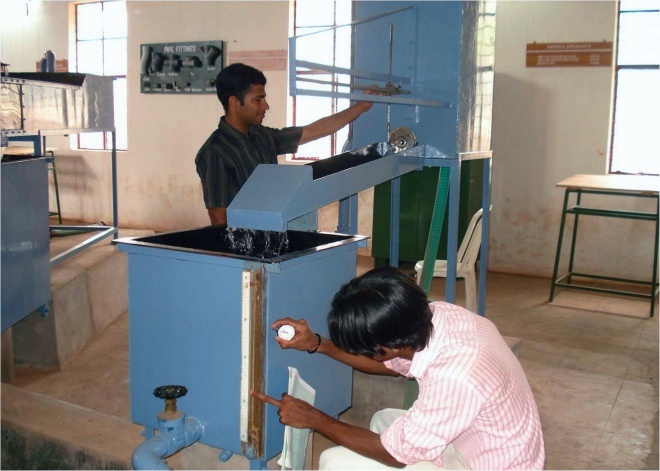 The student acquires practical knowledge by conducting experiments on different hydraulic machinery like pumps and turbines. Some of the facilities provided in the fluid machinery lab are, − Subsonic wind tunnel test rig − Kaplan Turbine test rig − Francis turbine test rig − Pelton turbine test rig − Reciprocating pump test rig − Centrifugal pump test rig − Jet pump test rig − Submersible pump test rig − Gear pump test rig − Axial flow fan test rig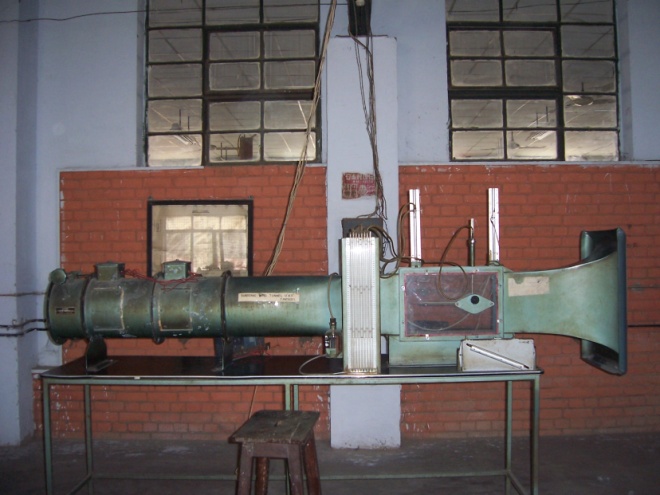 In our Thermal Engineering Lab almost all types of most modern two stroke and four stroke engines are available for the students to get practical knowledge about the working and characteristics of different engines. The cut sections of engines, gear box etc helps the students to know more about the features of different types of engines. Vane type rotary compressor, 2-stage reciprocating compressor, Vapour compression refrigeration test rig and Air conditioner Test rig are also available in the lab.
Our Instrumentation Laboratory is equipped with various transducers and instrumentation trainers, measurement systems, LVDTs, strain gauges, thermocouples, digital thermometers etc. This lab is primarily used for teaching different types of transducers and measurement systems.
STRENGTH OF MATERIALS LAB
Strength of Materials Laboratory offers facilities for testing materials for their strength, behavior and suitability for various applications. The various equipments available in the lab are, − Universal testing machine − Torsion testing machine − Compression testing machine − Impact testing machine − Tensile testing machine − Brinnel hardness Tester − Rockwell hardness tester
HEAT AND MASS TRANSFER LAB
Heat transfer is a subject of widespread interest to the students of engineering curriculum, practicing engineers and technicians in the design, construction, testing and operation of the many diverse forms of heat exchange equipment required in our scientific and industrial fields. To study the heat transfer characteristics state of the art facilities are available in the HMT lab. Some of the test rigs available in our lab include, − Steffan Boltzman apparatus − Heat transfer in forced convection − Heat transfer in natural convection − Heat transfer in extended surfaces − Emissivity measurement apparatus − Thermal conductivity of metal rod − Heat exchanger apparatus − Critical heat flux apparatus
Computer Aided Design is an essential industrial requirement as a part of technological development. The department has a well-equiped computer laboratory with 30 workstations and advanced softwares such as Matlab, AUTOCAD and ANSYS etc.
As a technology oriented institution, we keep a modern and sophisticated lab for the benefit of students. Presently our CNC lab is equipped with a state of the art technology CNC machine. Precision components of industrial applications can be manufactured in the machine.
The General Mechanical workshop is the common workshop for first and second semester in an Engineering Course. In this workshop students get firsthand experience in modern welding techniques, Foundry, Sheet metal works, forging, fitting, carpentry, and smithy.