ASSOCIATION
The CSE Association represents in whole the Social, Cultural and Technical face of the CSE Department. The Association stands for each and every member and apart from striving to make everyone feel at home with various cultural activities we also ensure that each of its member get maximum exposure to industrial standards, develop them socially committed and to imbibe in them the values of humanity.
2018-19
The inauguration of CS/IT Department Association for the year 2019 along with the flag off of N. K. Sudeep memorial Lecture series was held on 29 th Jan 2019.
The association inauguration was done by Mr. Sharath Shasheendran, Regional Lead, ALM, MU India; Partners APJ, SAP followed by the launch of the International Conference on Advances in Security and Computing , ICASC logo by Mr. Riji N Das, Senior Knowledge Officer, ICT Academy of Kerala.
Prof. Smithamol M. B. HOD, CSED presided the event and Dr. Mohammed Shekoor T, Principal LBSCEK gave the special address. The event was felicitated by Dr. Praveen Kumar K., Dean, Academic affairs and Dr. Vinodu George, Dean, Students affairs.
The programme also set stage for the logo launching of International Conference on Advances in Security and Computing , ICASC, the awarding of N. K. Sudeep memorial Scholarship 2019, and the flag off of N K Sudeep memorial Lecture series with highly enthralling and informative sessions by Mr. Sharath Shasheendran and Mr. Reji N Das.
Prof. Sarith Divakar, the faculty in charge of CS/IT association proposed the vote of thanks.
Upcoming Events:
. Workshops:
· IoT
· Big Data
· Deep Learning
. Expert Talk
· Industrial expectation from young engineers
· Research and higher studies
· Software testing
. Symposium
. Technical Quiz
. Programming Contest
. Skill Improvement Program.
. Pre-placement training
The pride of the Department – Teranis 2K19
1) ISTE Sponsored Short Term Training Program (STTP) on Big Data Computing, Mining and Security
 ISTE sponsored " STTP on Big Data computing, Mining and Security" from 04/01/16 to 09/01/16 organized by Department of Computer Science & Engg, LBS College of Engineering, Kasaragod.
STTP on Big Data computing, Mining and Security aims to bring together researchers from both industry and academia to participate and get exposure to latest big data analytics frameworks and technologies through hands on training. Last two years witnessed data revolution through the outburst of unstructured and semi – structured data. Cost of data capturing and storage devices went down further and aggravated growth of data. Storage and analyzing of massive amount of data for analyzing and providing insights helps to take key decisions.
MAIN TOPICS
1. Parallel Programming with OpenMP
2. Parallel Programming with MPI
3. Data security and Privacy in cloud Storage
4. TTE studies for Server Virtualised Systems using ARIMA"/ Life data analysis of Server Virtualised System
5. Introduction of Big Data and Apache Spark, Real life scenario
6. Setting up Spark Locally and applying Spark's Core APIs in Python – Demo
7. Creation of Spark Applications and Releasing it on a Big Data Cluster – Demo
8. Integrating SQL and Machine Learning scenarios
9. Discussion on Spark Security considerations
2) FLOSS Club Inaugurated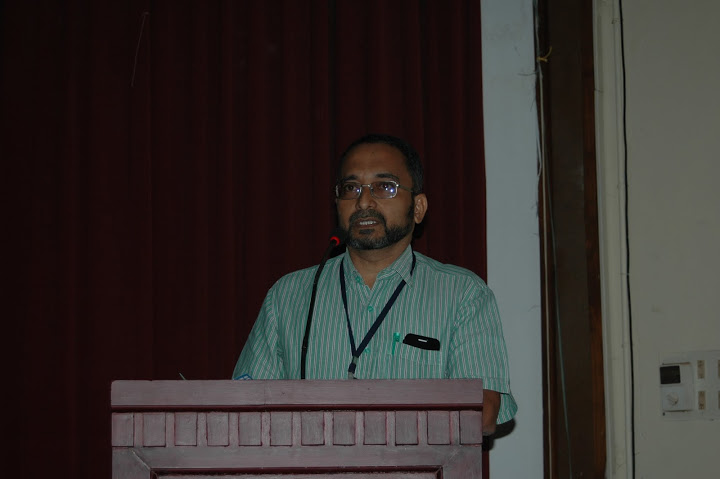 nauguration ceremony was held at Amphitheater, LBSCE. Chief guest Mr.Shine Nelson, (Mozilla Kerala) inaugurated FOSS Club and expressed his views about importance of open source software. Mr. Binoy D M Panicker, HOD, CSE presided over the function. Dr. K A Navas, Principal, LBSCE, Kasaragod launched android application for nCORETech '16 and shared his views for Open source softwares and it's importance as academic tools. Dr. Praveen Kumar, LBSITW, Thiruvananthapuram delivered felicitation address. Keynote speech was delivered by Mr. Shine Nelson on the topic "Privacy and Open-source with Mozilla". Paper Presentation competition was held for B.Tech students on the topic "Open Source Applications" followed by music treat from 2nd year students.
3) Big Data Processing with Apache Spark for PG Students
Presentation for workshop: Big Data processing with Apache Spark
4) Inauguration of FOSS Club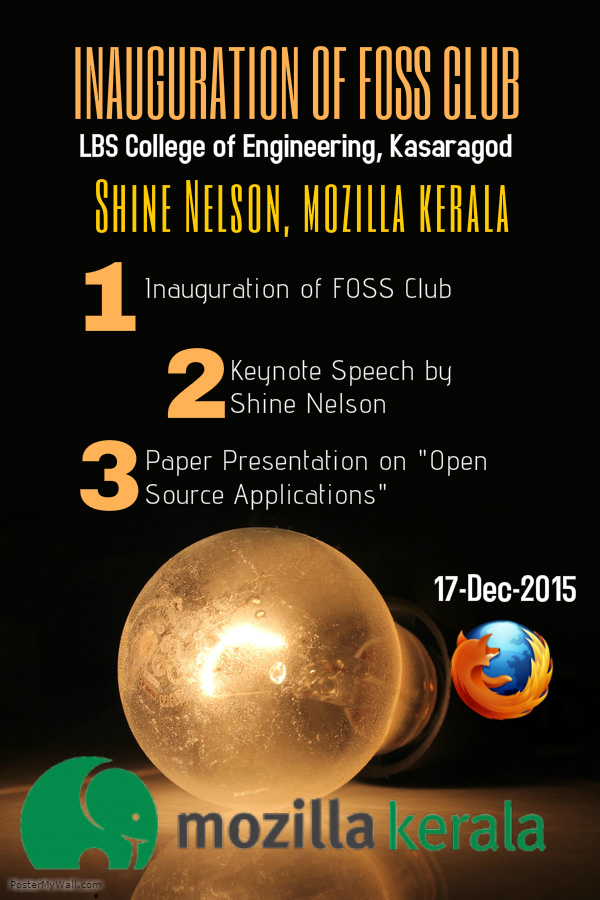 CSE Association humbly solicit your esteemed presence for the "Inaugural Ceremony of Free/Open Source Software Club" on 17th December 2015 at our College.
As a part of the event Paper presentation competition on the topic "Open source applications" for B.Tech students is also arranged. Interested students should register their names on/before 16-Dec-2015, 01 PM. Selected students will be allowed to present and prizes will be awarded. Attaching invitation letter and programme schedule for your reference.
5) CSE Association Website launched | Windows App Development | Kerala Startup Mission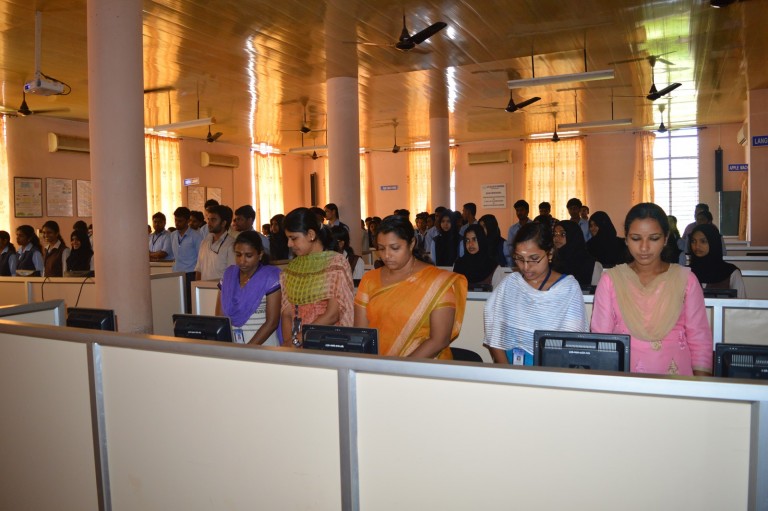 Inauguration ceremony was held at Central Computing Facility, LBS College of Engineering, Kasaragod. Chief guest Mr. Mohammed Ramees P (Microsoft Developer Community-Kerala, Fellow-Kerala Startup Mission) inaugurated website of CSE Association. Mr. Ameen Abdul Hameed welcomed the gathering. Mr. Binoy Panicker, Assistant Professor, CSE presided over the function. Dr. Vinod George, Associate Professor, CSE launched logo of CSE Association. Mr. Rajesh R, Assistant Professor, CSE delivered felicitation address. Mr. Mohammed Ramees P Delivered a talk on Microsoft for Students and a session on Windows App Development. Ms. Anooja Murali delivered vote of thanks.
6) Android Workshop for Students and faculties